HERUG 2020
The 23rd International SAP HERUG Conference
The University of Toronto is pleased to host the SAP Higher Education and Research User Group (HERUG) Conference on June 8, 9 and 10, 2020.  As a committed HERUG member, we are proud to welcome our higher education and research colleagues to Toronto, Canada to share experiences and network.
The theme for this year's conference is "Innovative solutions for the intelligent University," a tribute to the important and unique role played by the HERUG community in sharing new ideas and solutions, which advance and strengthen our collective mission of serving the public good through teaching and research. 
Over the past several years, many of our institutions have experienced tremendous change, not only due to advances in SAP and related technologies, but because the very nature of higher education is changing rapidly.  Institutions are innovating in response – whether this is designing a new employee experience to attract the best talent, automating business processes to streamline financial or research operations, or obtaining insights to student applications and retention, we all have stories to share in meeting these new challenges and the University of Toronto is excited to play a role in accelerating these conversations at this year's conference. 
Please stay tuned for more details!
About HERUG
The SAP Higher Education and Research User Group (HERUG) is a user group for all Education and/or Research Institution who are using SAP software in a productive environment. The HERUG provides its members with opportunity to share experiences and to network with other SAP HER customers around the world. It also enables members to interface directly with SAP executives and product development contacts to gain information updates on new functionality and to have influence on the future development of the SAP software.
University of Toronto
Founded in 1827, the University of Toronto has evolved into Canada's leading institution of learning, discovery and knowledge creation. We are proud to be one of the world's top research-intensive universities, driven to invent and innovate. 
Quick Facts
90,077 total student enrollment
20 divisions and approximately 450 departments

$1.3 billion total research funding across three campuses and nine partner hospitals

 

More than 10,000 faculty and staff

 

15.7 billion contributed to Canadian economy
For more information about U of T, visit the website.
Presentation submissions are now open. Deadline for submissions is 5 p.m. (EST) on February 24, 2020.
Registration will open on March 2, 2020.
Sponsorship Opportunities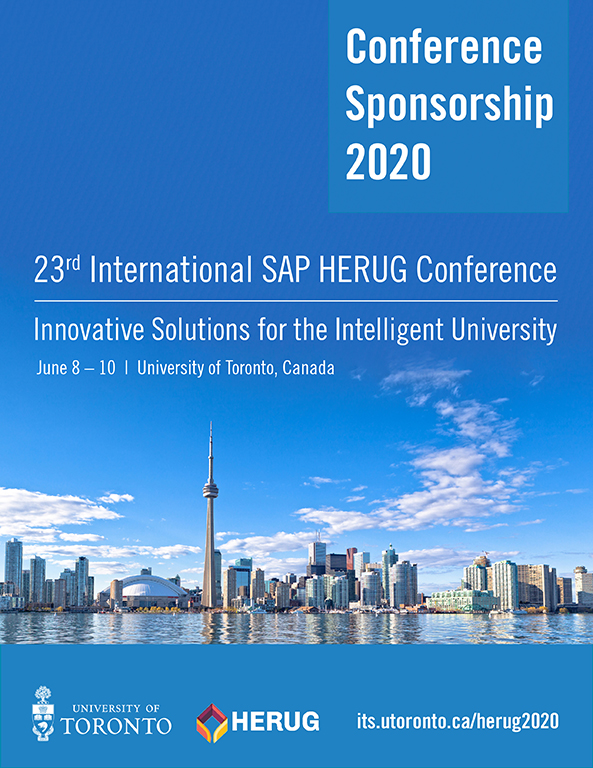 Photo Gallery